REO Speedwagon: Finding Their Way Home
REO Speedwagon: Finding Their Way Home by Anthony Kuzminski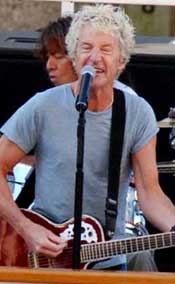 Back in high school, I was the Mac Daddy of Mixtapes and everyone knew it. Yeah, I was a bit geeky and tried way too hard to impress women with my vast musical knowledge and library, but still, no one could make a mixtape quite like me. Now, this was in a day and age where MP3's didn't exist and vast musical libraries were few and far between. My collection of a few hundred cd's and cassettes was unheralded and in high demand. When making one or many mixtapes, I usually threw on an over the top power ballad that always took the tape from good to great in their minds. One of the tracks I always slipped on was REO Speedwagon's "In My Dreams", a Top-Twenty hit from 1987. I'm not sure why, but the song always crawled under my skin whenever I heard it. I always got compliments whenever I included this song and regardless of what people say, REO Speedwagon defined the power ballad better than anyone, including Journey. I'd even dare say they owned the genre with their dreamy, clichéd and boisterous odes to love.
Alas when my friend and mentor, Lonn Friend, insisted that I see REO on their recent headline trek, I was a tad skeptical even if I own a few albums. He persisted and I found myself inside the gorgeous Rialto Theatre as the "Peter Gunn" theme music from
The Blues Brothers
soared throughout the theater before the band soldiered onstage and muscularly delved into "Don't Let Him Go" followed in quick succession with "Take It On The Run". This beloved two-some immediately took hold of the audience and transported them to another world where they didn't have to think about their daily responsibilities and where they could kick back and let loose for a few hours.
Read the full REO Speedwagon Review at UnRatedMagazine.com