One on One with Home Brewer (Bulldog Brewing Company) Paul Kelly of Lisle, Illinois By: Coren E. McLeod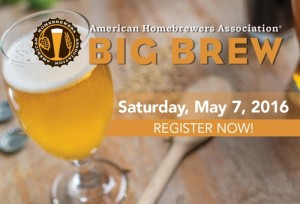 One on One with Home Brewer (Bulldog Brewing Company) Paul Kelly of Lisle, Illinois
If anyone has noticed, I have a few passions in life that I love to talk about. Of course, there is music and the other is craft beer. And when I can find other people that understand the history, the know-how and general knowledge of what makes a stellar beer, I am all about it.
Enter stage left my good friend Paul Kelly. Paul and I work together at our grown up job 5 days a week conquering the world with our sale skills. When we are not pursuing someone into buying GPS technology for their fleet of vehicles; typically we are talking about craft beer.
Paul has so much knowledge of beer it is astounding. He has been brewing his own creations for the past 4 years and doing all grain for 3 years. On May 7th, 2016, this day is known as National Homebrew Day. This has become a bigger deal since craft beer has recently in the past couple of years grown in popularity.
I got a chance to talk to Paul in regards to Homebrew Day. He was able to go to Two Brothers Brewery in Warrenville, IL and help brew up two different IPA's.
Here is what Paul had to say:
1) Ok, how do you get involved with Two Brothers on Homebrew day?

I signed up through UKG. (Urban Knaves of Grain.) I have attended the last 3 years. This is call Big Brew Day and celebrates National Homebrew Day.
Celebrate National Homebrew Day
"In 1988, May 7 was announced before Congress as National Homebrew Day. The American Homebrewers Association (AHA) created AHA Big Brew as an annual event to celebrate National Homebrew Day around the world. AHA Big Brew is held each year on the first Saturday in May."
Anyone, even homebrew shops, can host and register a Big Brew event, so invite your friends and family, gather around the brew kettle and join in the global celebration of the greatest hobby there is—homebrewing!
2) Describe their facility...
It's a decent size.
Two Brothers also recently add three new 200-barrel fermenters to its brewery in Warrenville, IL. The additions will increase Two Brothers' brewing capacity to 88,000 barrels.
3) What type of beer were you brewing up? How many other people were with you on Homebrew Day?
They gave us the following grain bill. I brew two 5 gallon batches. Both were IPA's
One batch was Citra/Amarillo and the other was Citra and Galaxy. These beers will both be dry-hopped in secondary. ABV should be about 6%.
The grain bill was as follows and will be similar to Prairie Path: 85% US 2-row, 11% CaraHell, and 4% MW Vienna. All of the wort will be pumped to the kettle and then distributed from there after mixing, so everyone will get the same wort at about 1.050 SG (12.5° Plato). Remember the gravity will be higher after you boil off some water. Two Brothers house ale yeast will also be available; bring a sanitized jar with your name on it if you want some.

4) What is your favorite part of homebrewing?
I like the creative process of making beers you like. Making something people can enjoy and makes them happy.

6) What is your favorite beer from Two Brothers?
Cane and Ebel. It's a red rye ale. Dry, but with a creamy touch of Thai Palm Sugar and the spicy tang of Rye, all balanced by loads of the wackiest new hops

7) From Two Brothers, which brewers were there to lead the brew day?
I think his name was Kenny and he has been there for over a decade.

8) What is your experience with brewing?
4 years. All grain for 3 years.
New to competitions though. Won second place in DMC. Drunk monk for IPA.
There were 673 entries judged and 297 registered participants, judges, and stewards.
Obviously, Paul knows his way around a fermentation tank. I wanted to take this opportunity to thank Mr. Kelly for taking the time to share his experience with Two Brothers Brewery in Warrenville, IL.
If you have any interest in becoming a homebrewer, there are a ton of books to check out. (I recommend How to Brew: Everything You Need to Know to Brew Beer Right the First Time or The Complete Joy of Homebrewing.) It is for sure a learning experience and one must have the drive and passion to do it. #Cheers to everyone out there and let's enjoy a smooth one. Make sure you check out Paul's home brewery called BullDog Brewery on the app #UnTappd.
- Read the full story at UnRatedMagazine.com