Dead Till Dark New Album Release Review By: Coren E. McLeod
Dead Till Dark New Album Release Review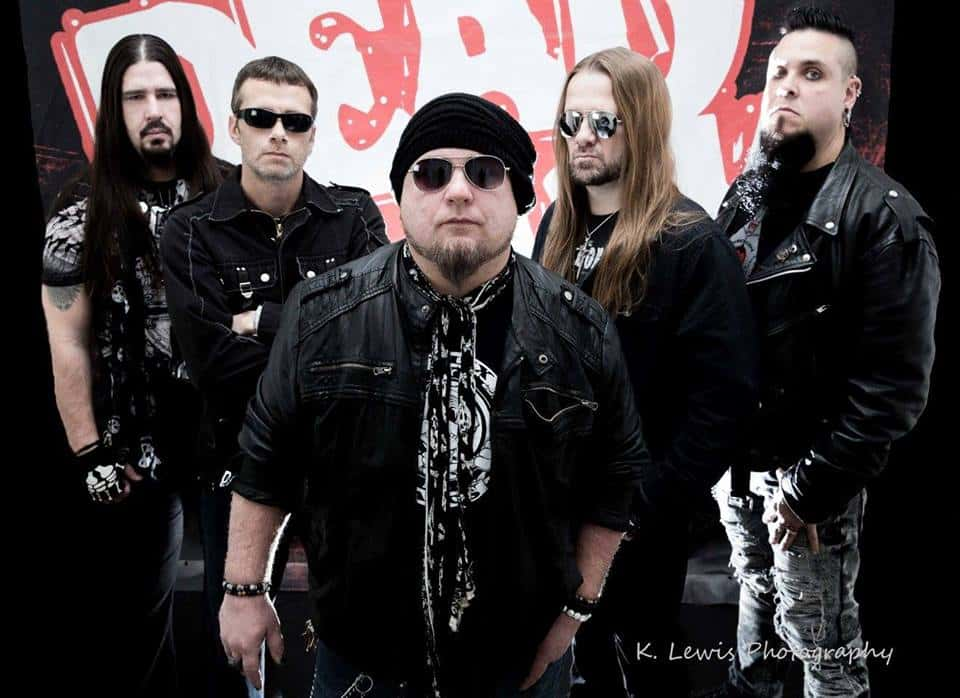 From the concrete and cornfield's of the mighty Midwest emerge DEAD TILL DARK, a hard-rock quartet from Springfield, IL. Fusing updated elements with the tried and true Rock n' Roll formula, DTD have quickly risen to the top of the List of Bands to Watch in 2016.
Since their inception in 2015, DTD have performed regularly throughout the Midwest to continuously positive reviews with some of the biggest names in multiple genres of the Rock field, including
Trapt
, Black Stone Cherry, LA Guns, Saliva, Another Lost Year,
HEDpe
, Sons of Texas and many more
..
2015 also saw the
band's
first single, 
Restless Heart
, receive substantial airplay in markets all across the Midwest, earning them a partnership with Pavement Entertainment.
Dead Till Dark are Tommy Hart, Thomas Michael Montgomery, Danny Gunn,
Micheal
Neal &
Larz
Cothren
... Bring Your Shovels.
So, I get to do another Album review and it for a band that is in my home state of Illi
nois. How awesome is that?
I have a confession to make: I have actual seen Dead Till Dark back in
December of 2015 when I was on assignment covering the ever astonishing
band
Meka
Nism
. I remember being at Boondocks on that cold night hearing Dead Till Dark play to their loyal fans in the capital city of Springfield, Illinois. That night was actual my first time where I felt like the ever famous journalist Hunter S. Thompson and being in the middle of it all. Seeing everything from my perspective was literally eye opening. I knew I
was truly experiencing
what Mr. Thompson described it as "Gonzo journalism."
Well, here we come full circle and I have now listen to this
album
a few times. One thing that I find truly special and
unique
about Dead Till Dark is this haunting sound they have to their music.
According to bass player
Larz
Cothern
, he would describe his band as "It is a combo of hard rock, punk, horror and metal all rolled into one amazing band." (
Fyi
:
Larz
and I are both d
ie hard Chicago Cubs fans.
)
The lead singer, Tommy Hart, has this husky, deep monstrous voice which transcends across each song beautifully. I believe this is very apparent in the self-title song "Dead Till Dark." (Track #2 in case you were wondering.)
The leadoff single "Restless Heart" is simply just a fun time. Great lyrics with a stellar array of fast pace guitar and drums.
Now, the song "Screaming From the Inside…" I can only describe it in one word: SEX. Seriously, it is one hell of a sexy song.
Larz's
bass is so on point that it makes me just want to shake my ass during the entire song.
(It can also be a panties dropper. Just saying.)
While listening to "Dig Your Grave," I was fascinated
with the guitar and drums. Danny Gunn plays the beginning of the song with precise and memorable drum beats
and
as a fellow drummer, I am jealous of his raw talent.
Thomas Michael Montgomery
has one hell of a solo in
"Dig Your Grave." It is almost reminiscent of
Avenged
Sevenfolds
Synyster
Gates' guitar solo in the ever #amazeballs song "Nightmare."
Well, there you have it. Dead Till Dark new album is what I would describe as a scary, horrifying trip through hell with some talent to back it up. I am happy to see yet another band taking off so well. Make sure to check them out on Fb, Twitter and all the other shit that is out there. #Cheers to Dead Till Dark and I know my ass will make it out to one of your shows very soon.
- Read the full story at UnRatedMagazine.com